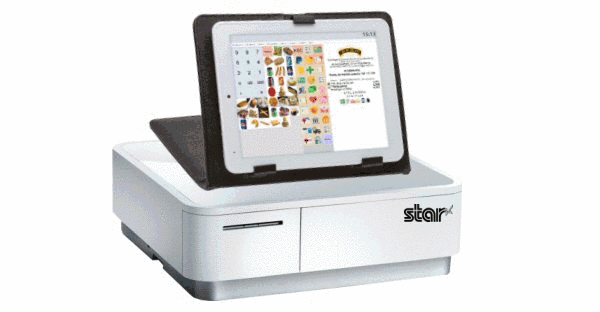 Accept credit card
Zero installation cost, with paypal,sumup, payleven !
Print receipts
A4 format or ticket format
Read barcodes
With your webcam, camera, or lazer reader
Stock management
Usable with mobile devices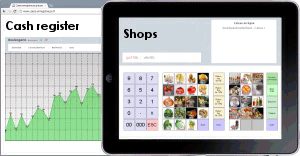 Completely free ! Works with any device connected to the internet ( as well on mobile devices or on computers). Lets you manage unlimited number of products, generates graphs, sales reports and statistics...
Just say thanks in the contact page !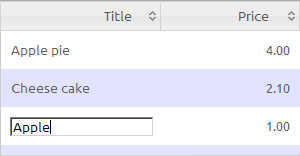 Easy to set up : set up all of your sale point at once. You are changing your hardware ?
No problem, your data is still available.
Secured and private : Your data is stored in high availability secured data center.
See Cash register documentation
Demonstration video
Point of sale cash registering software : Features
Reliability
Cash register has been online 100% time for several years. Your data is stored into secured private database. Nobody will ever have access to your data.
Trust
Everything that is free will remain free !
There is absolutely no problem using this cash register for free. Only few optionnal features are not free

Support
Please read the help section as many efforts had been made to make it useful. Email support is also available.
Credit card terminal
Your credit card terminal with no installation costs, ready in 10 minutes, without any specific device, no obligation : Via paypal enter the card number on the website
Print receipts
Plug any printer and you're done ! (any print size : "ticket size" or A4), then you can print receipts for your clients.
Free cash register software
Cash register is a free online cash register software, meant to be used on a mobile device or a computer connected to the internet.
Sales reports
Fits most accounting software and with Excel from a simple export at csv format.
Contactless NFC
Login or identify your clients with their credit card or mobile phone just by approaching the item next to your device

Multiplateform software
Works on Computers (PC, Mac & Others), Tablets and tactil devices (Apple IOS, Google Android & Others, Windows), Phones (IOS, Android...)
Barcode reading
Read barcodes with your webcam (PC/Mac), with the camera of your device (Android) or a bluetooth laser barcode reader
Stock management
Handle your stock and be alerted if your stock reach a limit.

Import/Export
Import or export to spreadsheet your sales activity or item and stock list.
Delivery management
If you have to deliver your products, cash register can handle for you the process of delivery and client accounts.
Tax management
Setup the different VAT taxes and apply it to a whole department and get your collected VAT amount at the end of any period.

User management
Create a list of your employees, and grant them the appropriate rights. Then you will be able to follow your staff activity as an administrator.
Loyalty points management
The software can handle loyalty points, and give client loyaty points for every order, which they can later use to pay.
Credit and debt management
Remember the credits and debts of your customers and proceed to payment of multiple orders at once.

Menu and discount management
If you need to handle menu prices (containing different items) or discount management (fixed amount, or %), this cash register pos software is made for you !
Gift voucher management
Print your gift vouchers, and let your clients securely pay with it.
SAF-T compliant
This software provide signed SAF-T accounting files prooving the accuracy of your accounting.

Invoice sending by post mail
Send in a single click, by post mail, your invoice for an order.
Online shop
Activate webshop feature and let your clients place their orders online.
Marketing features
Lets you send a message to selected clients by email, phone message or post mail.

Send SMS
Either use the SIM card of your phone or our services to send marketing or invoicing SMS to clients.
Invoice generation
Generate & send PDF invoices, and online payment pages to let your clients pay through a specific URL.
Document certification
Numeric signature is attached to important documents, proving authenticity of certified legal documentation: meant for accountants or tax agents.

End of day report
At the closure time of your cashbox, check the amount of cash to see if it corresponds to the software's calculation.
Scale/Balance
Weight your products with our USB numeric scale.
Calories
Show the calories for every items and the total calories of orders.

Preparation management
Items can be prepared in several preparation places.
Automatic reductions
The software can apply automatic items or discounts depending on properties of the order.
Department groups
Items can be groupped in departments and departments can be groupped too.

Webservices
Record also the sales from your own way.
Offline mode
Prepare your orders while offline, and import them in the software later.
Pager management
The software can manage the use of pagers that can ring when preparation of the order is complete.

Starmicronics partner
Free cash register is in partnership with Starmicronics.
Starmicronics provides hardware such as cash drawers, printers, client-side display you can connect in bluetooth to this software.
2018 European conformity
Free cash register took into account the European regulations into it conception.